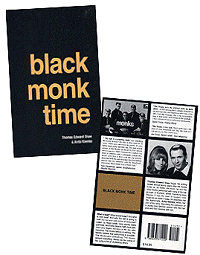 Black Monk Time
By Thomas Edward Shaw
& Anita Klemke
Published by Carson Street Publishing

Review by Richard Proplesch from JAM MAGAZINE: August 16, 1996
This autobiographical account of one of music's most misunderstood bands, The Monks, is so eerie and filled with dark irony that the late Rod Serling could have easily adapted it for an episode of The Twilight Zone. It's a compelling yarn, set in mid-'60s Germany, about rock 'n' roll's most cantankerous punk band - a group of American ex-GI's who performed a scathing and rebellious noise that was unprecedented for its time. Their music was a furious display of anti-social feelings that pre-dated the angry squalor of the Sex Pistols by nearly a decade and a half. It was a sound so far ahead of its time that the band members were ignored and avoided as foreign outcasts by the European crowds who saw them. While Shaw and Klemke's book plunges the reader into those outlandish musical times, it's also a story filled with Cold War political intrigue and clashing nationalist ideals.
Shaw was an American serviceman stationed overseas who formed an afterhours bar band, The Torquays, with several fellow soldiers. They were a bunch of greenhorned garage rockers clanging out Chuck Berry covers, eventually working the same Hamburg beerhouse circuit that toughened The Beatles just a couple years earlier. With their military obligation over, Shaw and the group (now christened The Monks) wormed their way up through Germany's seamy music industry, becoming disillusioned and impatient with their moderate success.
It may have been the band's isolated lifestyle - playing all night to drunken and angry Germans, mingling with people that held strong communist and fascist beliefs during the flashpoint political '60s - but something snapped musically within the band. As a reaction to all of the jangly, mop-top pop and weak beat music The Monks were forced to cover during their five sets a night, Shaw and his friends stripped all of the friendly melodies and human passion from their own original work and churned out some of the most primitive noise imaginable.
What emerged is probably some of the most deranged, demented ramblings ever committed to vinyl. The band's album, also titled Black Monk Time, is a unique experience of raw staccato bursts cradled in feedback, a pre-Devo mechanization of sound coupled with shrieking, venomous vocals and jagged rhythms. It's easy to understand the harsh judgment of crowds that witnessed a shaven-headed band in the '60s who taunted audiences and provoked confrontation onstage with cynical lyrics like, "My hate is everlasting, baby."
While Shaw recreates all of the conflicts and antics of his bandmates, his wife, co-author Anita Klemke, neatly compliments with her own story - a proud East German girl who fled oppression, trying to absorb all of her newfound freedoms while falling in love with Shaw and travelling with his band. It's a love story set among a test of wills: between frustrated group members, girlfriends, and assorted hangers-on pulling the band in different directions; between aggressive post-World War II Germans and Shaw's military propaganda beliefs; and between a brazen band bent on breaking all of the musical rules and audiences that were unwilling to accept (or acknowledge) their radical sound.
Since chances are you've probably never heard of The Monks (original copies of their German only album now trade among collectors for sums nearing the national debt), Black Monk Time is one of the few rock band historical accounts that unfolds like a suspense-filled novel. Shaw and Klemke share their experience of being at the center of an unsung moment of hysteria - the rise and fall of an influential group that's just now being rediscovered.
Considering all of the celluloid hoopla over fictitious groups like Spinal Tap, The Rutles, Eddie and The Cruisers, and Tom Hanks's forthcoming The Wonders, it seems like an obvious question: when can we expect to see a screen version of this truly riveting story? Maybe we should ask Rod Serling.