Roger Johnston As for all this reawakening of interest in the band--Tom Rapp, who was in Pearls Before Swine, said something that I really think applies to the situation. He was on NPR and he said "You do some albums in the sixties that are okay, and then you go away for thirty years, and if you don't die you're a legend!"
I first became aware of interest in the Monks in the late 80s or maybe early 90s when I was living in Texas. Gary told me about the pirate recordings and Polydor reissuing the album. I knew there were some rumblings in the background about us. More and more news started to come in about it. And it was unbelievable. I'm still amazed that people rediscovered us.
Of course, things came to a head with an invite to play in New York. I was a bit reluctant to do the show at first. Jon Weiss and Will Shade really encouraged me to play. Finally I said "Okay, let's go do it." I was a bit nervous about my drumming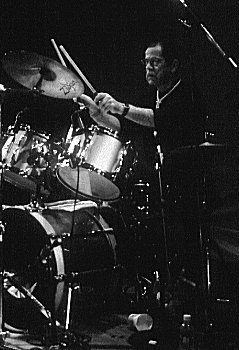 because I hadn't played in so long. I spent a lot of time practicing, getting muscles back in shape. Me and Gary played together a lot. There were some doubts on my part about my own drumming. Even during our full band rehearsals before the show, I was nervous. The moment we hit the stage, it went away. I just concentrated on the music and it came together.
When we got to New York before Cavestomp!, we were babes in the woods. Or I was at least. I had no idea what was coming. I was amazed at the reception we got. I didn't know how to react to it besides polite "thank yous." It was a whirlwind. The young people who came up and spoke to us amazed me. There was a common denominator. They were thoroughly educated about our music. I was shocked. They were astute and knowledgable about all the music. It was surprising, but gratifying in a way that I still can't explain.
In Germany, the audience would come up and speak to us after the show. They liked it, but they had no idea what it was about. It didn't fit in with English rock n roll or anything they'd heard before, but they did like it. At least the ones that came up and talked. There were a lot of newspapers that didn't like us.
New York was different. The fans had a number of years to listen to it and think on it. It seems that our managers were right about the Monks being the music of tomorrow. I didn't think so at the time, but time proved them correct. 30 years was an awful long wait, though! I think it was worth it. Hell, I know it was worth it.
On Let's Start A Beat, I like Shut Up and That's My Girl the best. I was very surprised at how much the fans liked Cuckoo when we played it live. Some of our stuff is indefinable. The Monks themselves don't even understand it. The one thing I finally did understand personally, though, was that the fans are smarter than we are. Don't second-guess them.
If that album's the last thing we do, I'm satisfied. We tempted fate and got away with it. I'd be perfectly content to disappear again so people would say "Who was that masked man?"
It took a while for the whole experience to sink in. I'd been home for a couple of weeks before I got perspective on it. I'd worked a lot to get in shape, playing drums and staying sober. And the New York experience actually helped me. I've been able to stay straight since I got back from Cavestomp! Having stayed sober to play the show, I realized I could continue to do so after I got back. That was really a really good result that I couldn't have foreseen beforehand.

Dave Day I remember sitting out on Irene's deck in the summer of 1990, enjoying the sun and having a nice cold beer. Then the phone rang and Irene said that it was for me. I was wondering who would be calling me at her house. I took the phone and said "hello" and on the other end was Gary Burger. I said, "Hey, guy, how ya doing?" He said he had some news for me and not to fall over. Ha, ha.
Well, he went on to tell me about these two guys who had interviewed Eddie about The Monks and I quickly replied "What the hell are you talking about? Nobody knows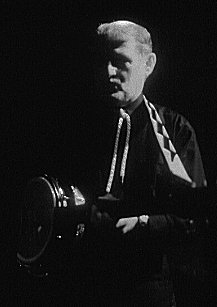 anything about The Monks here in the U.S." Gary said, "Well, these guys know and they're coming up to interview me in a week or two."
All of a sudden, my past started crawling all over my skin. I just couldn't believe that anyone would be interested in The Monks, especially 25 years after the fact. I had put The Monks completely out of my mind because all I knew is that we weren't wanted in the U.S. back then and that our music got most people completely uptight and out-of-site, ya might say.
I looked at Irene and said, "Well, I know you don't know anything about this, but it's a buddy from Minnesota who I played with in The Monks back in Germany." She asked "Who are The Monks?" I kind of laughed and said, "I'll explain later." After Gary and I get done talking, he said he'd let me know what's going on with this Monk thing and I thanked him for the news and we hung up.
I just sat there and thought who in the hell would be interested in The Monks here in the 90s. I was beside myself. Well, later on I was thinking, "Damn, I wish I had a tape of The Monks so I could play it for Irene and her husband at that time, but I didn't have any Monks music at all until Gary sent me some tapes later on.
It was crazy thinking that something was going to happen with The Monks. I hadn't talked to anyone about The Monks in 25 years and all of a sudden it pops right out of the blue. Then, I calmed down and said to myself, "Don't get excited. Nothing's going to happen."
Well, a few years later everybody except Larry met up at Gary's house and the rest is history. Gary had also found Roger and The Monks were all talking again.
It's so hard to believe that we actually played live in New York and that it went as well as it did. God bless all you devoted Monk fans out there. You brought The Monks back from the dead. Thanks everybody and keep monkin'!
Bye for now.....

Eddie Shaw I left Carson City, Nevada, February, 1961; went to Germany, then returned home, February, 1968, as a different person finding a much-changed place, one that took many years to get used to. The years as a monk had a profound effect on my life, whether I wanted it to or not. When I returned home, I had a hard time adjusting to post-monk life. I moved to Minneapolis, where Gary and I went to school. Roger eventually moved there as well. We had a shared experience we couldn't explain to anyone else and we still relied on each other for support. The monk experience made things difficult. At first we would talk about what we did, but others would look away and say, "You're bullshitting." When I played monk recordings for my family and childhood friends, they all thought there was something wrong with me.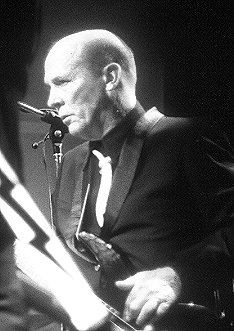 When I bragged I was going to write a biography about it someday, they said, "Yeah, in order to keep people from using it as toilet paper, you're gonna have to write it on sandpaper." I think we all soon stopped talking about it, believing we had failed. For me it became very hard to listen to those recordings. I didn't listen to them for many years. I continued to play music in other groups, touring and recording in the U.S.A., until a few years, (1980) after my first son was born. Anita (I changed her name in the book because she wanted anonymity) and I were married for thirty-two years. She had escaped from East Germany in 1961. When the Berlin Wall came down she wanted to go back to Erfurt, where she had lived as a child. She lived there for awhile but now lives in Gelnhausen where we first met. I eventually returned to Carson City.
In 1992, I was surprised one morning when two young men, Mike Stax and Keith Patterson, came to my house. They said they were looking for a monk. "What the hell are they talking about" I thought. They showed me an article in "People Magazine" written some years before about a group who covered the monks - known as Das Furleins. Then I was informed of the English group, The Fall, who covered some of our tunes in their recordings. Right then I thought, "damn! In fifteen minutes, everybody's gonna be famous!" We spent the night at my house, digging out old photos, the bass, a monk suit and other souvenirs. It was the first time I had talked about it in years, amazed that anyone would appreciate our efforts. Mike Stax then wrote a piece for his magazine, Ugly Things.
When they left I called Gary and said, "Gary, you won't believe it. There are some American kids who have listened to pirated monk records and they like the music." He said, "You're f**king crazy," and hung up. It took a little time for us to get used to this new interest.
After the article was published in Ugly Things, I received a call, in 1994, from a movie producer asking if I would write a book about the monks. I stopped writing the book I was working on, and immediately punched out black monk time. Since I had a quick deadline, the first draft was written very quickly, which the other monks (Larry couldn't be found) approved after making some corrections. Then it was published with all its grammatical mistakes and optioned for a movie. A number of scripts have been written by different script writers and are still being developed. The option is renewed every year. As I have found out, it takes a long time to make a movie.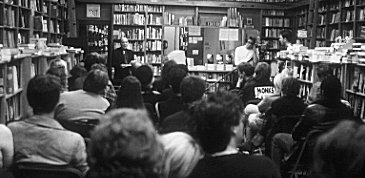 As a publisher of other authors as well as my own books, I began to travel, promoting the book, black monk time. It was reviewed in many national magazines, newspapers, on different TV stations, and even Rick Karr's program, All Things Considered, on National Public Radio. Interest in the monks began to increase, helping us all come out of the closet. I did some research with my agent in Los Angeles and put together a music publishing company for publishing rights. All five monks were made equal partners and then I asked Larry if he would be our secretary/treasurer. He handles money better than anyone I've ever known.
Infinite Zero then licensed the recording, Black Monk Time, and gave us our first release in the U.S. The reception was good; and when Henry Rollins talked about it on MTV, I think we all thought we had died and gone to heaven. Since then, two more recordings have been released: Five Upstart Americans, on Omplatten Records, and Let's Start a Beat, on Cavestomp Records, distributed by Varese Sarabande.
After the Infinite Zero release, we began to get invitations to play again. I wasn't convinced it was the right thing to do, believing it best to let the monks be remembered for what they were. Who wants to see a bunch of old geezers trying to convince people they're still twenty-one years old? After a lot of discussion, and after turning down Bumbershoot, we did agree to play for the Cavestomp festival in 1999.
I had last seen Larry in 1972, when I had a week's engagement at Mother's in Chicago (maybe it was when I was passing through Chicago after playing in Boston, I don't remember). I was playing in a jazz/funk group, Copperhead, later known as Minnesoda--with many unreleased recordings and one album on Capitol. Larry and I spent an afternoon at his house where we looked through his photo albums. It was very interesting to see the photo of Dave and Jimi Hendrix, in the back room at the Star Palast in Kiel, Germany. No one had talked to Larry since, until Gary found him in 1998.
After thirty-plus years, it felt very natural when we came together in the Cavestomp studio. We shook hands, turned on the amplifiers and went to work. It took us a couple of minutes to get through the first song and then begin to argue, just as if it had only been a couple of days since we had last seen each other. Some keys were changed, to accomodate changed voices, and I had senior moments forgetting what keys went to what songs. We practiced for five days, which wasn't enough time. We certainly weren't as tight as we used to be, but then, what the hell, the last time we played was over thirty years ago. The audience and critics were very forgiving. When we began to play that night, I was surprised to see the congregation singing along with the songs. They knew the tunes! Most importantly, thank god, Mike Fornatale knew all the words. Gary lost his voice the very day we were to perform and I called Mike begging for help. He went on stage with us, without any rehearsal. I think he now has a new career, helping other old timers.
It's been a gratifying experience. I've met many new friends. After writing and publishing black monk time, I've done some book tours and made some sales. I've sold a car, sold some property, and had garage sales to support this cursed monk thing. Surprisingly the monks did earn some bucks from the Powerade commercial, which seemed to come out of nowhere. Other things have happened to me in the last ten years as well. The owner of the Old Globe Saloon put my name on a bust, which is prominently displayed behind the bar, but that wasn't because I was a monk. It was because I had spent enough money on drinks to help start a college fund for his kids.
I also shouldn't forget to mention meeting Will Shade when I read an article he wrote in 1997. I was impressed, wrote to him and we became friends. He and Jamie Goodman put this website together, and through it the monks have found many more friends.
So what has changed for me the last ten years? I've met a beautiful woman, Sherrie. She makes me feel good. I also hear people telling me I'm a rock star which I don't take too seriously. My main accomplishment was to survive all those years of playing music, still alive with maybe two or three percent of my brain cells still intact.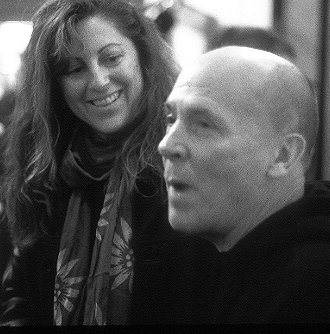 Have I changed? I say I have, but other people tell me, I'm just as weird as ever. It doesn't matter. I still like the idea of playing loud music to piss folks off. There's a bunch of old fogies (politicians, special interests, et al) who deserve a loud raspberry now more than ever. I've discovered I actually like the people who tell me the monks were a good group, but then I do get uncomfortable when someone makes me the object ot their misguided reverence.
I still pick up the trumpet, bass guitar or play the keyboard for my own pleasure. For awhile I jammed on Slayer tunes with my sons, but that ended when I complained to them that I wanted to play something else. When the drummer (Reu, my oldest) and the guitar player (Erin, my youngest) made fun of me by saying, "I think we have a cry baby in the room," I unplugged my bass and quit. It's no big deal. I'll come back when they learn some other tunes. Music is something I will always do. At this time, I'm finishing the book I was writing before I wrote black monk time. I have a bunch of unfinished manuscripts I want to finish. I'm trying to keep my life on track as a writer. This new interest in the monks has been energizing and distracting, but things are beginning to settle down.
One result of being a monk is that there are five men, bonded to each other for life. That's important. And then--I still have many miles to go before I can take the next fifteen minute break. That sounds like a fucking love-life cliche doesn't it? Be careful with monks who talk about love. While Roger still searches for the meaning of cuckoo, I'm holding on to the glimstick and continuing to fall with others, arses and elbows (higgledy-piggledy) on my way down to heaven. Thanks for the fun.

Gary Burger The first indication that the Monks were getting more than their 15 minutes of fame came to me in the form of a telephone call from a total stranger. He introduced himself as Keith Patterson, a rock n' roller from Minneapolis. He started out by telling me stuff that only a collector would or could know, like . . . did I know that there were pirate versions of Black Monk Time out there? Did I know that the album was going for pretty big bucks on the collectors' market, and the singles also? No, I didn't have a clue that the Monks were back in the marketplace and indeed had never truly left it, primarily because of the interest of the record collectors and fans. Soon after my introduction to Keith, Mike Stax (publisher-owner of Ugly Things) featured the Monks in an issue. When that came out, I knew that the Monks were beginning to roll again.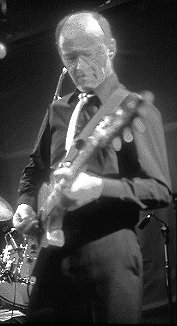 Earlier than this, I'd been getting calls from Eddie, who was sweating out his book Black Monk Time. Soon, I'm hearing from Dave about rumors of Monk interest in the Seattle area--and funny enough, my good friend, Monks drummer Roger Johnston, had just moved to my hometown to escape a tumultous life in Texas. But the real stinker was when the fan mail started to come in from around the world. Now, I truly knew something was going on.
It didn't take long to learn that Repertoire Records (Germany) had somehow obtained the Black Monk Time masters, and had released another pirate with no compensation to the Monks--plus we found that our parent record company, Germany's Polydor, had also released another vinyl version in the mid-1980s. Then the Infinite Zero release, then the Omplatten release . . . yes, things were happening.
These scattered bits of news coming to me did provide some satisfaction for all the work the Monks had gone through in the 60s. Hell, we'd worked hard to put out Black Monk Time and then when the band collapsed, we saw it all go down the drain. It was not a good feeling. Personally, it took me a long time to come back, to recover from being a Monk. Returning to the States should have been terrific after so long away, but it was not that good. Getting used to a regular job after being on the Monk Lam for so long wasn't easy for this camper, but I was determined to get on with life and build something for myself.
Over time, good things happened and I put the Monks behind me. I still played in a small club band or two (1969-75), but they were not very exciting cover bands. I didn't even play guitar anymore . . . I was a front singer . . . do a few songs, go have a beer, come back and do a few more songs. I wasn't happy about this musical life and eventually escaped from it. My point is that the Monks and "serious music" had evaporated from my life and I didn't realize how much I missed the comradeship of being with a dedicated group of people determined to play tight and solid and to make a mark on the music world.
When the Monks' resurgence first began to roll I was interested from a divorced, isolated point of view. I didn't feel like I had to participate or needed to participate in this whole business. It was happening without much input from me and I was comfortable with that. Ed Shaw was/is crazed from his efforts to promote his book and get a movie deal out of it, but it wasn't hitting me like it was him. At least it wasn't hitting me until the suggestions and offers began to come in that the Monks should play again.
I love playing guitar and I did want to see my buddies and to play with them again. When I realized that a decent probability existed that the Monks might be called on to do a concert I did the only thing I could do to help it along . . . I went out and got a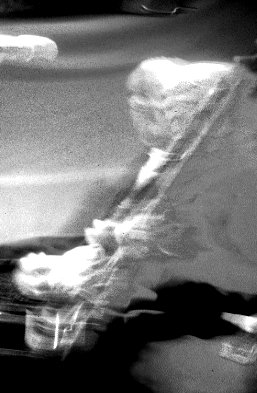 job in a rock n' roll band. Get the chops - get the chops - get the chops so you won't be totally stupid if and when the Monks play. I started to write songs and record them.
All the Monks, except Eddie, came to my studio in 1998 and we cut seven songs with a stand-in bass player. It was a good exercise and made it clear to me that Roger, Dave, Larry and myself were able to play with accuracy and intensity. I still didn't know about Eddie's playing even though he kept saying over the phone that he was the best bass player in the world.
Eventually, we did get around to doing Cavestomp! in New York City. Man, it was hard. We practiced until I was voiceless and then did the show. Shitty deal, but life has its curve balls and we pulled it off anyway with a little help from our friend, the now-famous Mike Fornatale. Even though we had some awfully rough edges, the audience at Cavestomp! saw no wrong and we ended up having a blast and came away with a very good feeling.
After Cavestomp!, I began to push on the Monks that we should start work on a new album and recently found that there was not much enthusiasm for it. To me, the main ingredient required when writing and recording songs is enthusiasm and joy for the idea of the project. We don't have it. I started out with a very high interest level, but lost it after a ho-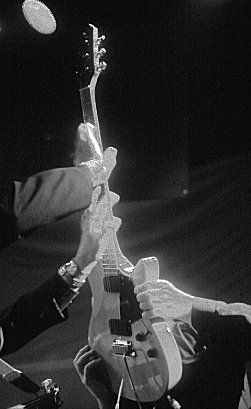 hum reception from most of the Monks. So, the excitement and energy required to record is simply not there and I believe it is not there to play another live show. You've got to WANT to do these things and not be drug along kicking and screaming and whining that you'd really prefer to be elsewhere doing other things. I've come to understand that all of us are now comfortable enough in our life situation that to put ourselves through a wrenching event like a recording session or a live concert is going to take more than a six-horse team to make this wagon move.
No, I'm not convinced that the Monks will ever play again and if they do not, that is alright with me. It takes a huge amount of strength to bring us together and I'm not sure there is that much power left on this planet. I'm believing that the Monks at Cavestomp! is quite a good and safe place to leave it.